Navigation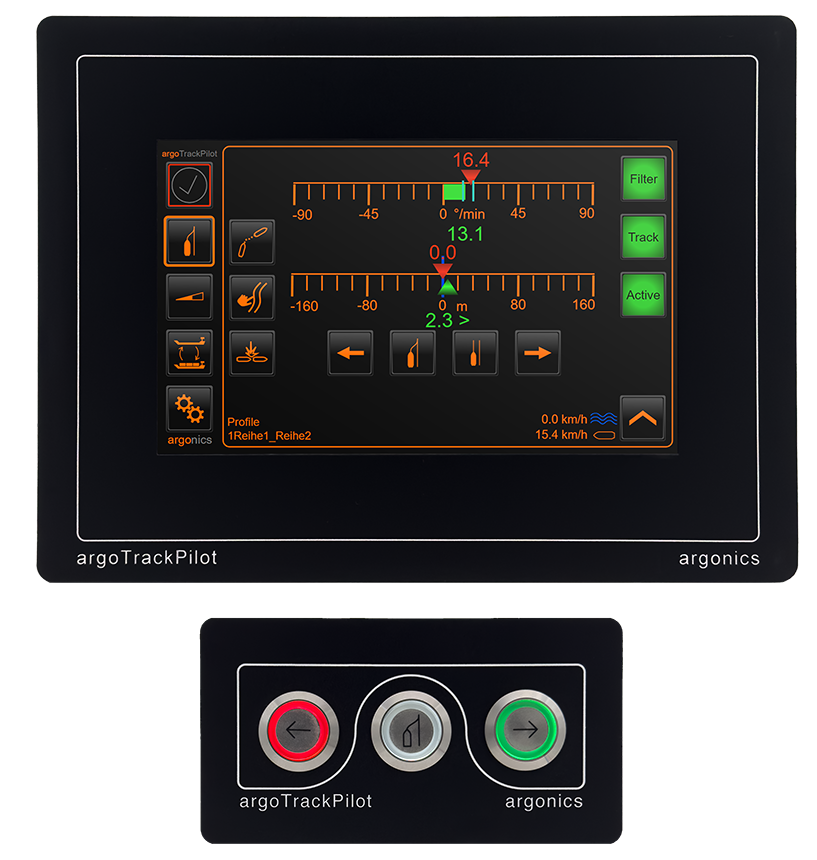 argoTrackPilot
argoTrackPilot is the world's first automatic track-keeping system for inland vessels along pre-defined guiding lines. argoTrackPilot embodies the next logical step toward an autonomous vessel beyond autopilots (ROT controllers).
argoTrackPilot ensures that the vessel remains on the guiding line during all weather and light conditions. The skipper is alleviated from tiring routine work during navigation. The skipper takes action only when necessary by choosing an appropriate offset to the guiding line.
Stress reduction of the skipper


Safety improvement


Reduction of fuel consumption & material wear


Certified Hardware


Variants
argoTrackPilot flex
Flexible variant without necessary console installations,
touch display and buttons retrofittable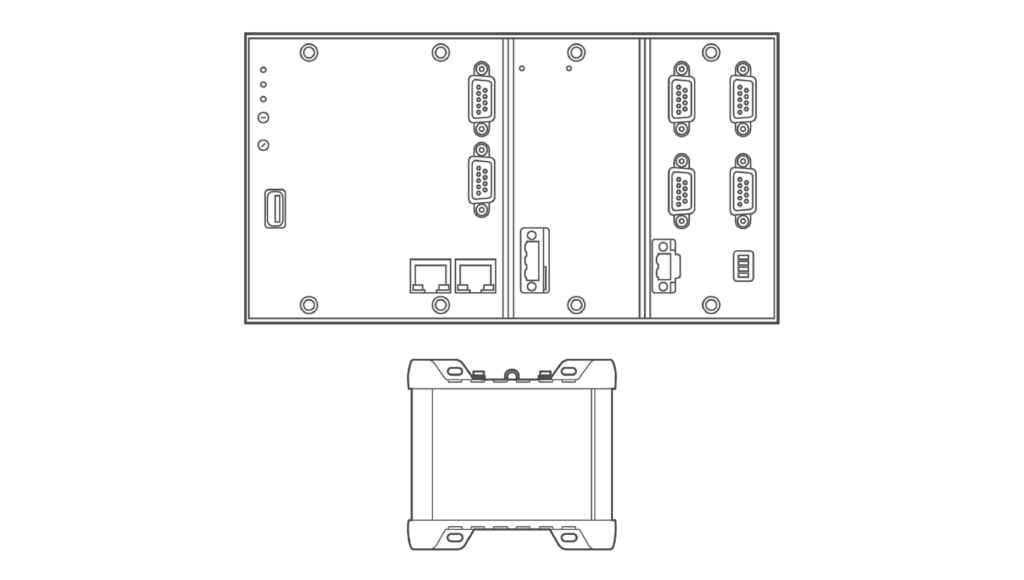 argotrackPilot serial
Variant with touch display and buttons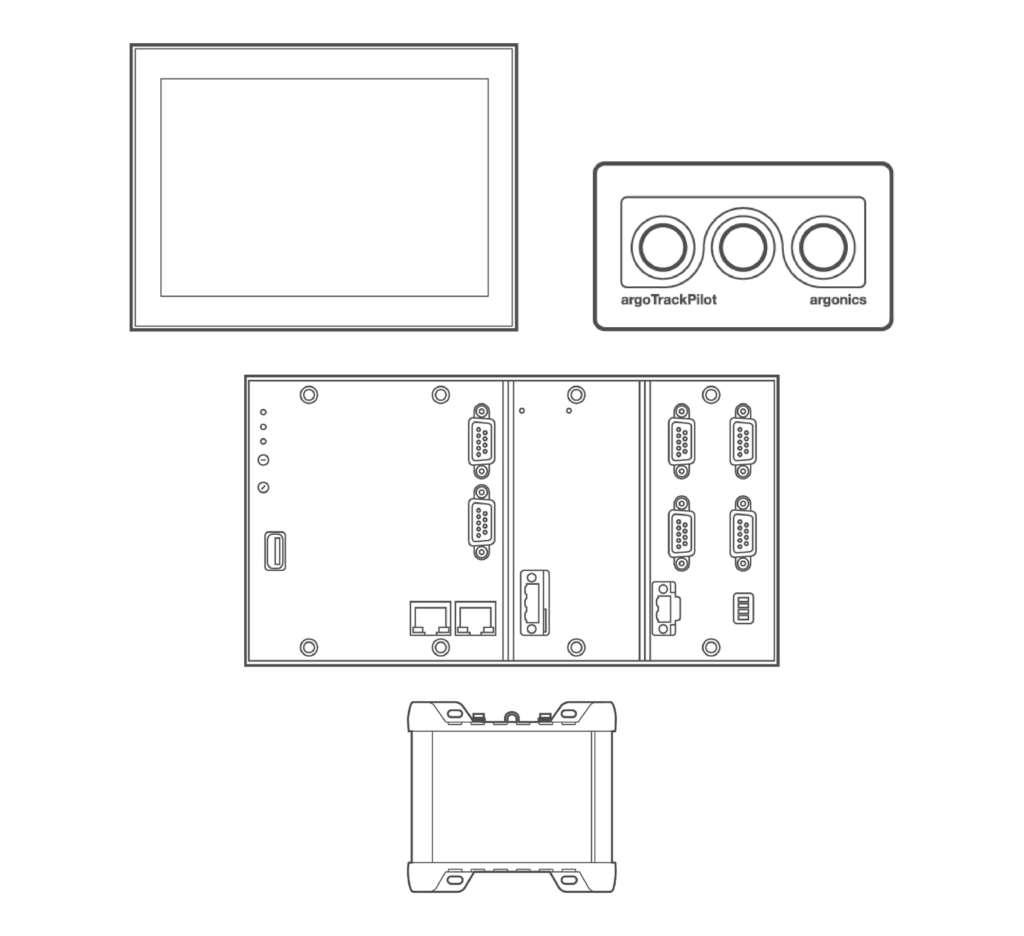 argoTrackPilot
Variant with touch display and buttons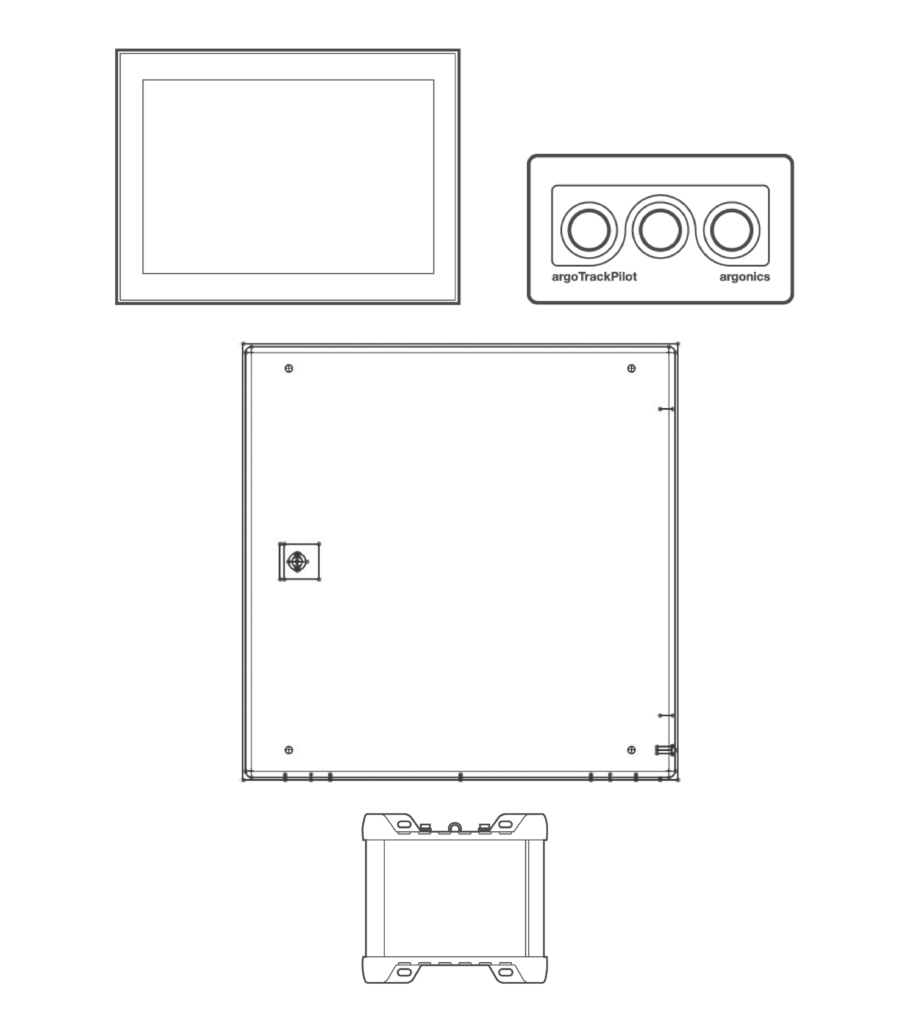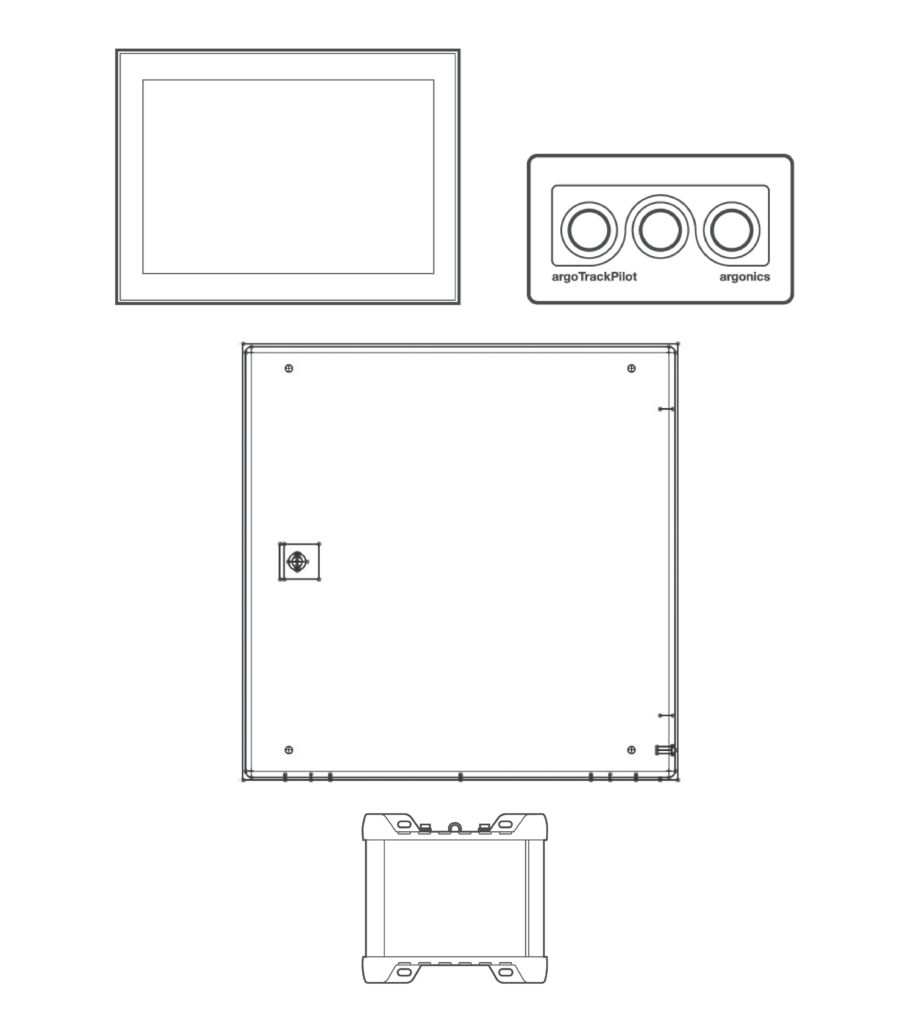 Did you know?
Our argoTrackPilot is now available as a license model in an annual subscription!
Features
Guiding lines adjustable by the skipper
Optimized guiding lines possible depending on loading conditions and water levels in order to lower fuel consumption
Easy adjustment of offset to guiding line for passing and meeting of other vessels
Predictive navigation through guiding line analysis
Interface to all commonly used autopilots:

AlphaPilot MF und AlphaTrioPilot MF, MK2 from Alphatron
Titan/Sigma/Falcon P503 MK II from RadioZeeland
RiverPilot S3 and ST49 from SchwarzTechnik
Navmate Autopilot
Veth Autopilot

Less rudder action through predictive navigation
Small deviation from guiding line during all weather and light conditions
Result of 30 years of research and testing on various inland vessels
Perfectly suitable as an extension to all commonly used ECDIS:

argoRadarPilot and RADARpilot720° from Argonav
Navigis River from Tresco Engineering
Periskal Inland ECDIS Viewer

Certified hardware: DNV GL, LR, ABS, BV, NK, KR, RINA
Support
Videos
Quickstart
argoTracks – Installation and Use
Troubleshooting
Sailing in strong winds
argoTracks – map view
Versioning
Version 2.7

Release: 23rd May 2023

New features

argoTrackPilot control panel: reset and set current distance swapped.
Previously:

hort keystroke -> set current distance
long keystroke -> reset

Now:

short keystroke -> reset
long keystroke -> set current distance

Improvements argoLaneWarning:

Improved evaluation of velocities
Distance for detection of lying ships increased
Monitoring of the software, warning in case of errors
Extension of warnings to a total of 25, New:

Safety corridor
ECDIS connection
Alphatron display connection
AIS software error

Expansion of critical alarms to a total of 14, New:
Renaming of alarms and warnings to understandable notes
Saving and selection of received tracks
Keeping the current track even after reboot
Revision of filter properties: Improved bridge passage

User interface:

argoTracks map added to touch display.
Added selection option for received tracks
Hints for expired/expiring argoTracks
Display of long texts as ticker
Retain the language even after a restart

Improvements

Improved evaluation of GNSS data when driving backwards
Brightness values for Alphatron display adjusted
GUI:

Display of water level and direction of travel of the argoTracks
Displayed width of the ship in the map corrected
Correction of WMS URLs for display of IENC charts

Improvements V2.7.1:

GUI: Correction of the display when updating the argoTracks
Version 2.6

Release: 14th November 2022

New features

Transition line: Display of the expected path
Online updates: notification of updates and self-installation without external help
argoTracks favorites: Display and selection of the last selected tracks
Recording of rudder angle (argoTrackPilot serial only)
QR code with a link to the service homepage in the graphical user interface

Improvements

Hint at available argoTracks for download
Step size of the buttons for moving the track adjustable
Revision of the argoTracks user interface:

Display of the complete active track
Switching between selection of a new track and display of the currently active track

Improvements V2.6.1

Downloading argoTracks will no longer freeze the user interface

Improvements V2.6.2

Prevented the software from freezing past the end of a track

Improvements V2.6.3

Update for secure transmission of recordings

Improvements V2.6.4

Online update process improved

Version 2.4

Release: 08th July 2022

Improvements

Stability improvements for the AIS interface
System software update

Version 2.3

Release: 14th February 2022

New features

Length of blue line extended
Strong-wind-button: Special compensation of strong cross-winds
argoTracks: New web-based overview and selection of guiding lines
Estimation of ROT offset
argoLaneWarning: Introduction of special warning signal in case of potential collisions
Back-to-line-button: Short press moves red line through ship, long press returns red line to blue line

Improvements

Removal of empty profiles
Highlighting of active guiding line
AIS interface: Improvement of the detection of valid data
Quick access to important control parameters

Version 2.2

Release: 26th July 2021

New features

argoLaneWarning: AIS-based collision warning along guiding line
argoTargetPilot: Platooning for inland vessels, automatic following of AIS targets, based on vessel train project NOVIMAR. Smoothness of reference track improved
argoTracks: Filtering by guiding line name

Improvements

Check of course over ground in Kalman filter improved
Stream velocity preserved after change of profile
Standard settings adjusted: PresetGain = 1.5, MaxDistance = 30m
Maximum dimming of Alphatron Touchpanel restricted
Maximum stream velocity restricted to 10km/h
Warning in case of missing AIS data
Active page on argoTrackPilot touch panel marked

Version 2.1

Release: 06th April 2021

New features

Deadman warning configurable by captain
User interface for setting the stream speed simplified
argoTracks: Filtering by guiding line name

Improvements

Fixed: values ​​no longer displayed after changing the language on the touch display of argoTrackPilot
Fixed: alarm symbol on touch displays not showing any alarm state anymore

Version 2.0

Release: 1st January 2021

New features

argoTargetPilot: Automatic AIS target follower
argoHapticFeedback: Interface with actuated tiller
Providing tracks and displaying news directly via touch display

Improvements

Advanced controller settings for captains
LED ring around the joystick on AlphaRiverTrackPilots showing the current state of the TrackPilot

Service and optional modules

argoTracks

The argoTracks guiding line service is subject to a fee and can be subscribed to together with the maintenance contract.

The guiding lines were created in close cooperation with experienced skippers and were matched with data from partner companies (e.g. CoVadem). They are continuously maintained by our customer service.
Thanks to feedback from various skippers, we are able to constantly expand these lines and offer them for upstream and downstream trips, as well as various ship lengths and convoys.

argoTargetPilot

argoTargetPilot is an additional module to argoTrackPilot and can be purchased separately.

This module makes it possible to follow the path of a vessel ahead by tracking AIS targets. To keep the list of AIS targets clear, a filtering of the possible targets takes place. The distance as well as the direction, the course and the speed of the possible target are taken into account.

Prerequisite for the use of the argoTargetPilot is the connection to an AIS device.

argoLaneWarning

argoLaneWarning is an additional module to argoTrackPilot and can be purchased separately.

This module makes it possible to warn the skipper of possible collisions by means of the information from AIS targets. argoLaneWarning supports the skipper by collision warning on AIS basis and thus contributes to the increase of safety while sailing with argoTrackPilot. The threshold for "time to collision" is configurable as well as the distance threshold and the additional width.

Prerequisite for the use of the argoLaneWarning is the connection to an AIS device.

To detect a possible collision, the argoTrackPilot compares the position of all AIS targets with the currently selected track. The schematic representation is intended to illustrate which targets are detected as possible collisions (red) and which are not (green).

Also works when offset from the actual guiding line
– argoLaneWarning remains reliable.

---

Monitoring

argoDataPortal

argoDataPortal is a comprehensive solution for the monitoring of inland vessels, single as well as up to entire fleets.

It records and stores all common signals on board inland vessels and transfers them to a central server via a secure connection. Both instantaneous values and historical data can be viewed and evaluated via a web interface.

Better planning through live data

Preventive maintenance through long-term analysis

Access for companies for maintenance
only to certain areas

Possible connections

1 Rudder angle indicator, 2 ROT, 3 Autopilot, 4 ECDIS, 5 GPS-receiver, 6 cargo indicator, 7 current sensor,
8 Bow thruster, 9 Echo sounder, 10 Fuel gauge, 11 Motor, 12 Rudder system

Features

Black Box with data base located ashore
Analysis of navigation behavior for fuel consumption reduction
Evaluation of historical measurement data for maintenance planning, e.g. exhaust gas temperature
Monitoring of measurement data using limits
Intuitive overview of live data such as fleet position
Customer specific graphical representation in the form of classical gauges or time plots
openVPN encrypted connection between vessels and data base, certified by TÜV
Galvanical separation from vessel
Engine data via J1939 or MODBUS
GPS receiver via NMEA0183 or NMEA2000
ROT indicator via analog input or NMEA0183
Rudder angle indicator via analog input or NMEA0183
Loading meter by Sygo, tank level indicator, wind meter, river current sensor, temperature gauge, etc.
Customized display of live data and historical data of the entire fleet